Circular Lifting Magnets for Scrap
Magnet Services Ltd manufacture a range of circular lifting magnets for use in the scrap industry and steel works with a standard range from 40" (1000mm) diameter to 60" (1500mm) although we can design and make special units for individual customer requirements up to 80"(2030mm). The standard magnet range uses welded steel casings with manganese bumper plates as standard.
We have a heavy duty range of industrial magnets which use a cast steel casing to order. The winding of the magnet coil uses aluminium strip wound on a centre bobbin insulated with polyester insulation boards. The whole unit is then fully encapsulated in either bitumastic pitch or resin.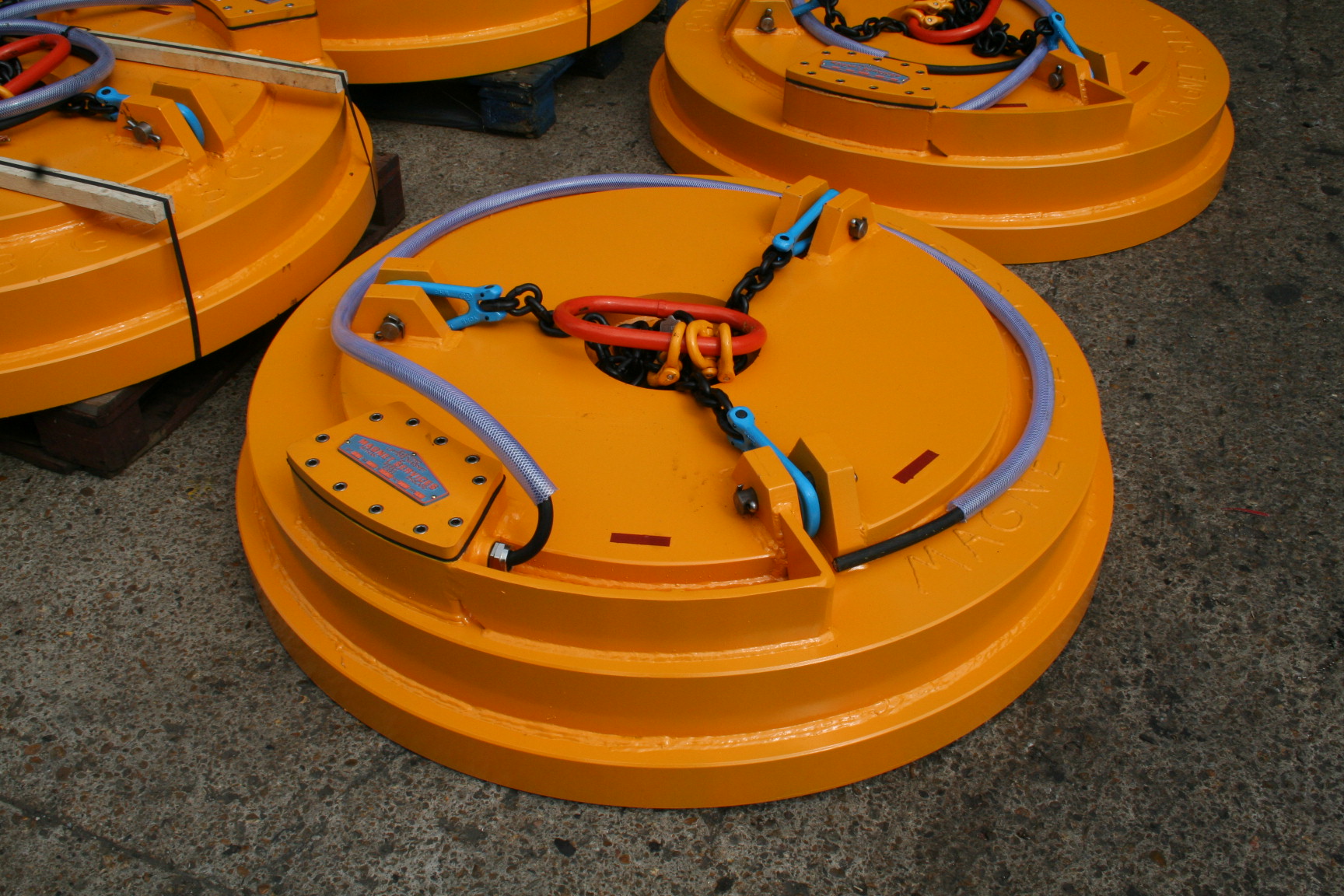 Circular Lifting Magnets with Aluminium Windings 220 Volts D.C. 75% Duty Cycle

Weight 660kg
Voltage 220
K.W. 5
Amps Cold 22.7
Ingot Slab 11000
Crackerball 4065
Cast 430
Heavy Scrap 420
Turnings 200
Cast Borings 220

Weight 850kg
Voltage 220
K.W. 5
Amps Cold 22.7
Ingot Slab 12000
Crackerball 5500
Cast 600
Heavy Scrap 650
Turnings 235
Cast Borings 260

Weight 2000kg
Voltage 220
K.W. 10
Amps Cold 45.4
Ingot Slab 19000
Crackerball 9075
Cast 998
Heavy Scrap 1100
Turnings 375
Cast Borings 650

Weight 3000kg
Voltage 220
K.W. 15
Amps Cold 68
Ingot Slab 27000
Crackerball 12000
Cast 1490
Heavy Scrap 1600
Turnings 499
Cast Borings 1140

Weight 6634kg
Voltage 220
K.W. 25
Amps Cold 160
Ingot Slab 39000
Crackerball 13600
Cast 2800
Heavy Scrap 2300
Turnings 690
Cast Borings 1450
Our policy is one of continuous improvements and we reserve the right to change specification without prior notice.
NOTE – The Lifting Capacities shown above have been selected from tests on a large variety of various materials. Definite statements as to the capacity of any Magnet cannot be reliably given without considering all the conditions to be fulfilled in each particular case.
Underwater Industrial Magnets
Our underwater range of industrial magnets from 45" to 60" can be wound to customer power requirements. The main coil of the underwater range is contained in a stainless steel casing and fully insulated before fitting in the main casing to protect it from any water ingression.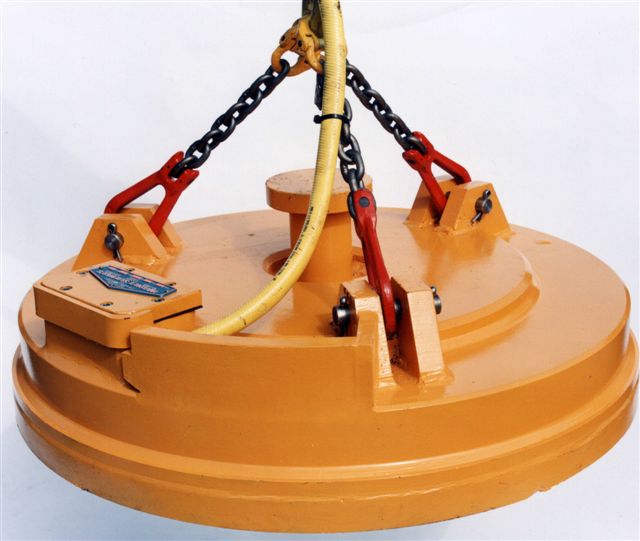 Magnets currently available for sale:
Please click on an image to see more information and pictures
Office hours
Monday-Friday: 8:00-18:00
Saturday: Closed
Sunday: Closed
Based near
Colchester, Essex
United Kingdom